April 2020 Meetup – Supporting Your Remote Workforce
Friday, April 24th, 3:00pm – 5:00pm MST
Advanced Registration is Recommended
And we're back!
We're all remote workers now. Or at least many of us are. I think the rapid pace at which many of us have had to adopt and adapt is best summarized in this Tweet: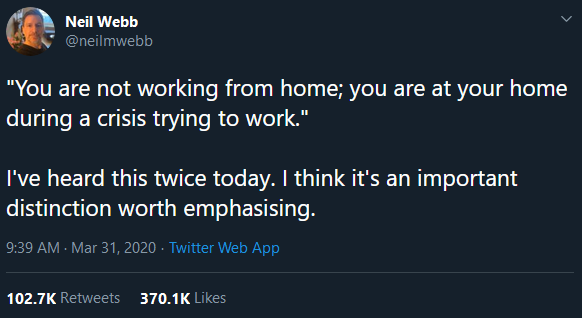 Obviously the landscape for working has changed for almost everyone in this time. Working from home has become a necessity for many roles and it can be challenging to navigate and knowing how to best support your staff in their ability to do their work remotely is essential. So we thought what a better time than ever to bring in some experts from Microsoft to tell us about their strategies for supporting a remote workforce!
---
MEMUG would like to thank our Gold Sponsors for 2020:
Let us handle the tedious work of packaging, testing, deploying, and troubleshooting application updates in your ConfigMgr or Intune environment. Easily extend Microsoft Endpoint Manager to deploy and update over third-party applications within your enterprise.

Save time, money, and stay secure by automating the publishing of third-party updates to your environment. Setup only takes minutes. All subscriptions include free in-house support and setup calls!
Recast Software creates tools used by hundreds of thousands of enterprise organizations worldwide, impacting millions of devices and (more importantly) the people who use them. Our mission is to be an integral part of how IT teams create highly secure and compliant environments, capable of handling technological change. We do this by integrating with existing IT infrastructure to provide deeper, more actionable insights, improved productivity, and powerful, scalable automation.
ManageEngine Patch Connect Plus redefines your experience with Microsoft Endpoint Configuration Manager (ConfigMgr). It integrates with the ConfigMgr server to automate patching of over 530 third-party updates across more than 330 applications. It also allows you to create, customize, and deploy third-party applications with ConfigMgr. Additionally, it offers 25 of the most essential utility tools, which are directly accessible from the ConfigMgr console for an optimal user experience.
---
Session Overview
Join employees from Microsoft as they give us the lowdown on the lock down – how Microsoft is supporting their remote workforce, how Microsoft can help you support your remote workforce, security and your remote workforce, and where you can get help when you just don't have the time or space to do it yourself.
Topics to be discussed
The top 9 ways Microsoft enables a remote workforce to stay connected, productive, and secure,
How Microsoft itself is keeping it's remote workforce connected,
Microsoft's commitment to privacy and security in Microsoft Teams,
Top 12 tasks for security teams to support working from home, and
​​​​​​Assistance available to get started quick with Microsoft FastTrack, Microsoft Services and Microsoft Partners