February 2020 Meetup – Take Your Image Servicing to the Next Level with WIM Witch and Donna Ryan
Friday, February 28th, 3:00pm – 5:00pm MST
Advanced Registration IS Required
Are you still creating Gold Images using a build and capture task sequence? Are you servicing images in ConfigMgr with the built in image servicing tool? Those days are OVER!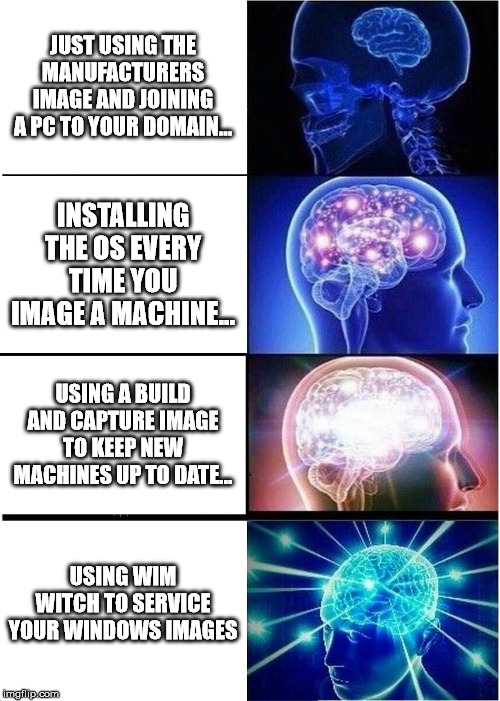 Come Join Donna Ryan (Principal Consulting Engineer with CDW Corporation's Integrated Technology Services Mobility practice) as she shows us a more modern approach to creating those "gold" images.
---
MEMUG would like to thank our Gold Sponsors for 2020:
Let us handle the tedious work of packaging, testing, deploying, and troubleshooting application updates in your SCCM environment. Easily extend Microsoft SCCM to deploy and update over 335+ third-party applications across 190+ of the most common enterprise products.
Save time, money, and stay secure by automating the publishing of third-party updates to your environment. Setup only takes minutes.
Recast Software creates tools used by hundreds of thousands of enterprise organizations worldwide, impacting millions of devices and (more importantly) the people who use them. Our mission is to be an integral part of how IT teams create highly secure and compliant environments, capable of handling technological change. We do this by integrating with existing IT infrastructure to provide deeper, more actionable insights, improved productivity, and powerful, scalable automation.
---
Session Overview
Offline Image Servicing is a process that streamlines some of the image customization tasks regularly performed by administrators. The process saves time during imaging by incorporating customization directly to the Windows image, negating the need for additional Task Sequence steps. It also ensures systems are built fully complaint with their Windows updates.
WIM Witch, a GUI driven tool, performs most common servicing tasks. By leveraging a GUI, WIM Witch makes the servicing process easy to understand and perform. The presentation will cover all of WIM Witch's features, including automating bulk updating tasks with command line functions.
Topics to be discussed
Reasons to service an image
How to service with WIM Witch
Command line functionality for automation
How WIM Witch compares to other tools
Road map for WIM Witch
About Donna Ryan
Donna Ryan is a Principal Consulting Engineer with CDW Corporation's Integrated Technology Services Mobility practice. She began her formal IT career in 2011 as an Associate Engineer with CDW. Her primary skills are around Microsoft Endpoint Configuration Manager, specifically operating system deployment, software update delivery, and application packaging. Having consulted hundreds of clients in a variety of industries, she has also delivered projects in multiple other Microsoft technologies such as Hyper-V and Remote Desktop Services. In 2016, she was awarded CDW's Coworker of the Month for her leadership and dedication to a large and highly visible Windows 10 deployment. Donna is the lead developer of the community tool WIM Witch, which provides an easy to use interface to perform common offline image servicing tasks. She is also a frequent presenter to systems management user groups and conferences. Her passion for technology and the tech community is a driving force that keeps her exploring the latest solutions.